Today we've rolled out the latest big new feature for OilPrice.com - a Gas Stations Near Me page.
Using various aspects of the Google Maps API suite, including Places, Distance Matrixs and Maps, the new page allows their millions of visitors from all over the world to find a petrol station near them.
The feature is of course fully responsive so it's easy to use on your phone whilst you're on the road - as let's face it, that's when you're going to need fuel and you don't know the area you're in.
The original brief from the client - a busy news and subscription service site - also hoped to include directions to local gas stations from within the OilPrice website, but for now we advised simply linking people directly to Google Maps as the Directions API can prove to be quite expensive and with the amount of traffic OilPrice.com receive we thought this was best saved for Phase 2, once we've seen how it's running and how the costs are looking.
This is just one of the big new releases we've rolled out for OilPrice.com this week, along with various behind the scenes technical upgrades and a video ad platform. It's certainly been a busy start to the year! But we wouldn't want it any other way! If you're looking for an agile web development agency who always consider your ROI with any brief, please get in touch.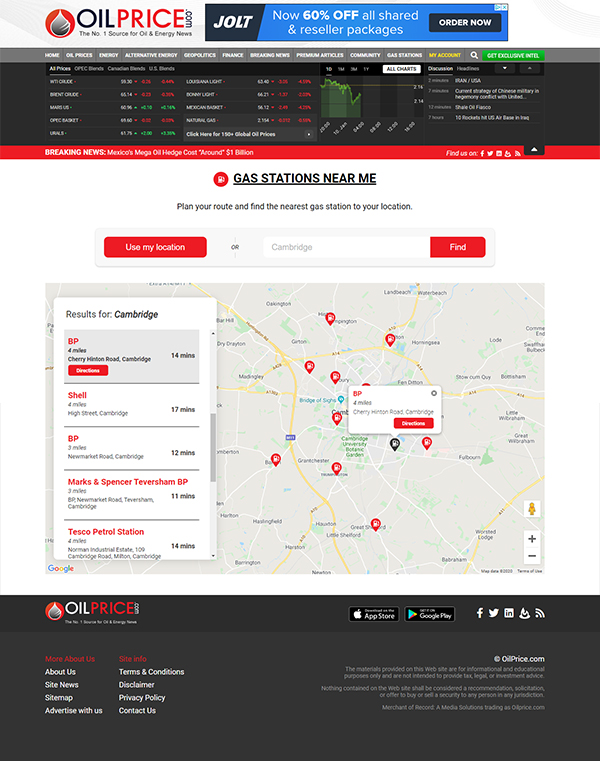 Want to share? Tweet it!
More from our blog
6.04.21
We've been busy helping our client OilPrice.com with the launch of their new trading platform. Made in conjunction with FTSE 250 company owned Markets.com, OPCMarkets… Read →
23.03.21
We recently had 3 clients - within the space of a few days - ask us for video heros on their home page. We do… Read →
12.03.21
Our lovely friends over at Create Health have unveiled their beautiful new brand, and we were thrilled to be involved. WordPress developer Jon built their WordPress… Read →