When we launched a new site for Chris Pye and Carrie Camann back in 2016, the brief was to keep the design familiar to their existing users.
The new video based e-learning site, built on CodeIgniter to replace their previous Umbraco site, stuck to the previous colour palette and certain design features. However, as we headed into 2020 we all decided it was time for a spruce up! And so we worked on some fresh designs with Chris and Carrie which could then be efficiently applied to their existing site.
CodeIgniter is a MVC framework which means the code for how the site looks is kept seperate to how it works. The result of this is that a new look can be applied to a site without meddling with the backend code or effecting the site's features.
The new look has a new choice of fonts, a blue and red colour scheme to replace the previous brown, and more contemporary home page blocks and bullet points to aid conversions.
Chris and Carrie liked it so much they asked us to apply the same changes to Chris' personal woodcarving site this month, which previously followed the brown scheme of Woodcarving Workshops. We hope their large international subscription base feel the same way!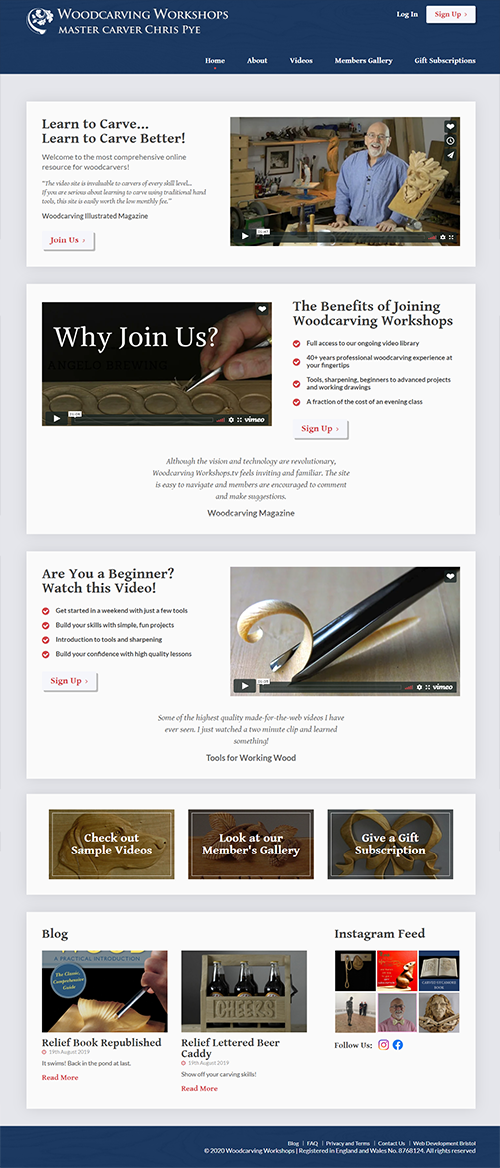 Want to share? Tweet it!
More from our blog
6.04.21
We've been busy helping our client OilPrice.com with the launch of their new trading platform. Made in conjunction with FTSE 250 company owned Markets.com, OPCMarkets… Read →
23.03.21
We recently had 3 clients - within the space of a few days - ask us for video heros on their home page. We do… Read →
12.03.21
Our lovely friends over at Create Health have unveiled their beautiful new brand, and we were thrilled to be involved. WordPress developer Jon built their WordPress… Read →