We've worked with Sweetbird for a few years now, just helping them tinker around the edges of their existing WordPress site. As we know WordPress inside out, we "inherit" a lot of existing sites which the original developers can no longer support for various reasons. Maybe the site has grown too big, or gotten too complex, or maybe the client just feels like they need a more responsive team - those are all places that we step in.
So it was exciting this week to get to do a little more on the site than just security upgrades and old bug fixes because they've launched a new product - their reusable cup.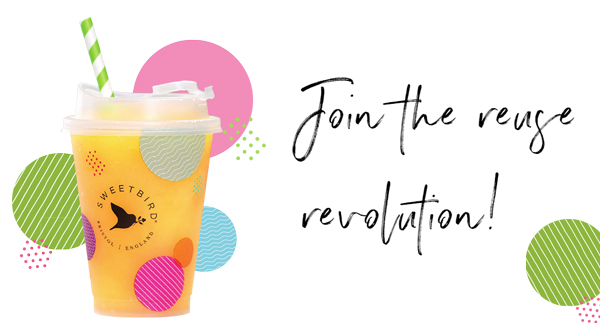 "The move away from takeaway paper cups to reusable hot cups has been momentous, with companies like Bristol based Boston Tea Party bravely doing away with them altogether. Yet, many businesses still sell their cold drinks in single use plastic cups – even if served with a paper straw."
Sweetbird set out to change that, with a new cup created specifically for cold drinks. The 16oz cip is big enough for a frappé plus toppings, whilst the hole allows for drinking from or you can use it with a large straw. It's dishwasher safe and can be recycled once you're done with it (although it'll last a really long time anyway).
The website changes are a splash about the cup on their home page, and details in their collections section. We designed how these sections could look, arranged the copy based on their press release, got sign off at each step of the way, and ensured the client can update the text whenever they need to on the site themselves. We'd never had to add anything to Sweetbird before so the job involved getting set up properly with the code base, but the design work began on Friday and the site changes went live today, so all in all a pretty quick turn around.
Sweetbird are suggesting their stockists offer them at checkout, and even offer a discount to anyone who uses one. Hopefully more hospitality companies will follow Sweetbird's lead in polypropylene reusable recyclable cold drink cups to do more for the environment and we'll all be using them over the next couple of years.
More from our blog
16.10.23
Earlier this month I was asked to be on a panel for the latest Evolution podcast, where I sat with other tech leaders to discuss… Read →
28.09.23
We've been working with Jericho Writers for a few months now, getting to know their very complicated WordPress membership site. If you're not familiar with… Read →
18.09.23
In July we told you how we're helping Leeds University with their Dialect & Heritage project. Meanwhile August saw the launch of Mendips AONB's Moments on… Read →