We've been busy helping our client OilPrice.com with the launch of their new trading platform.
Made in conjunction with FTSE 250 company owned Markets.com, OPCMarkets is a new way to trade oil, gas, energy and much more, as it lets you buy and sell over 2200 instruments. Whilst markets.com is recognised as the home of trading, OilPrice is one of the best known energy news and insights websites on the Internet, with regularly over 300,000 daily visitors.
For us, the project has included banner artwork creation and delivery to OilPrice existing ad partners, as well as system integration with BannerFlow to allow the OilPrice team to manage their ad assets, as well as lots of geo locating on advertisements to ensure any mentions or ads are only shown in the correct territories, whilst others wait for permission. As 77% of retail investor accounts lose money when trading spread bets and CFDs, it's been important that warnings are clearly shown on the website and that all prompts to visit OPC are approved by a legal compliance team before they go live.
Another big change has been to update the famous oil prices page with buy and sell buttons, allowing people to jump straight into OPC Markets to trade certain blends, along with updates to the editorial tools to allow the OilPrice content team mention the platform mid-article.
Everything is always very fast paced in the world of trading, and the OilPrice team have appreciated how quickly we've been able to jump on their changing requirements - especially our developers Matt and Dean - to keep the launch smooth!
"What a huge Friday from the 18a dream team. Great work!"
OilPrice Editorial Team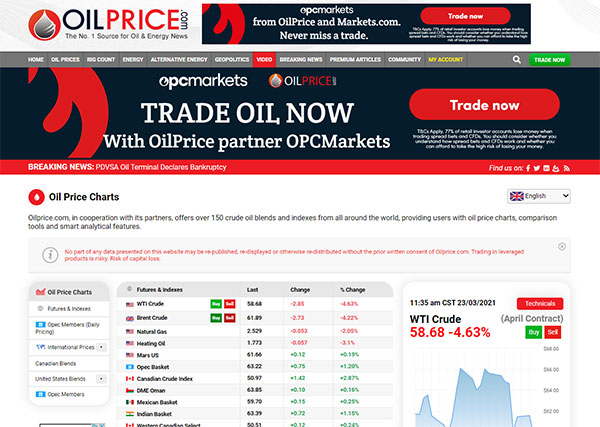 Want to share? Tweet it!
More from our blog
8.08.21
I had a real battle getting HTTP/2 to work on my new AMI2 Lamp webserver this week. The Apache http2 module was installed but it… Read →
7.06.21
We're looking for an experienced PHP developer to join our highly effective team. We're problem solvers, with clients depending on us - some of them… Read →
23.03.21
We recently had 3 clients - within the space of a few days - ask us for video heros on their home page. We do… Read →