18a is 10 years old this year!
2017 marks 10 years since Tom and I started trading as 18a Productions - 18a because we were working in Tom's flat - 18a Gloucester Road. It was a very small basement flat but we lived and worked there 24/7, building our fledgling portfolio!
We had some great first projects - we immediately jumped in building niche social networking sites and complicated super-Google friendly sites for start ups. Of course we've always loved doing pretty brochure sites too, but the cleverer the better as far as we're concerned! Over the years we've made more than our fair share of Facebook apps, countless WordPress sites and various e-learning tools. We've moved from completely bespoke coding, to Cake PHP, to CodeIgniter, to Laravel - with besides WordPress - Perch, OpenCart (not to mention OSCommernce, CS Cart, Presta Shop and WooCommerce) along for the ride too.
Meanwhile we've grown from being just the 2 of us in Tom's flat to being a team of 7 currently in our quirky offices in the heart of Winscombe. We could have grown bigger - and have had opportunities along the way - but we've always been keen not to grow to the extent that the knowledge or efficiency that working with 18a brings is lost. That's why everyone at 18a has a web / hands on role - whether it's coding or design.
In our first year of trading - a time of carbon calculators and green credentials - we planted a tree for every website we made. And we've still got our lovely little fruit orchard in Tom's Dad's field in Worcestershire as a result. You can take a step back in time and see some belated photos of us planting it here.
That orchard has grown up now and gives us lots of lovely apples and plums which we enjoy in the office - healthy snacks is one of the perks of working at 18a. So this year to celebrate our 10th Birthday we thought we'd plant a new orchard a little closer to home that the team can help with and enjoy. So we've recently been out in Tom's own field and planted the new 18a Cider Orchard. There's a mix of eating apples and pears there too so we can continue growing our own healthy snacks.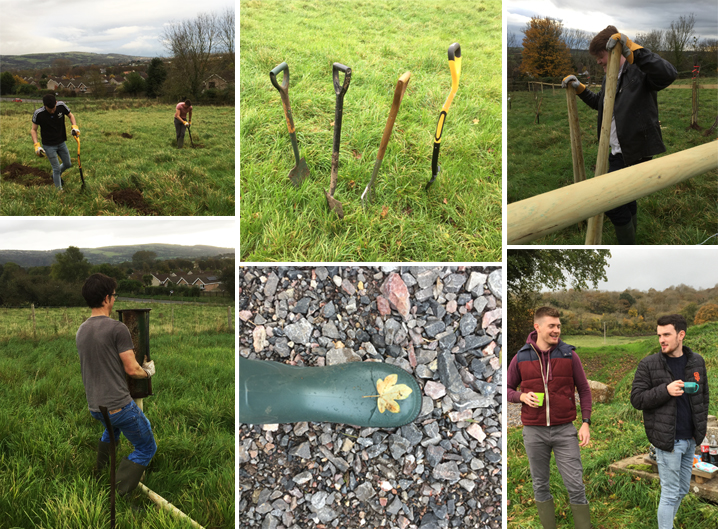 So what's next? Well, when we set up 18a our intention was to spend 50% of our time doing client work and 50% of our time working on our own projects. And with the projects we've launched we've had some great successes and rave reviews - but we've never had time or resource to promote them as we've been inundated with client work - which of course is a lovely problem to have. But now there are more of us in the team, and we've recently launched modq.co (a progressive web app aimed at helping marketing teams curate GDPR compliant content), we hope 2018 will be the year we get more chance to nurture our own creations again. Plus we've already got some exciting projects lined up for 2018 as our start up clients go from strength to strength.
We want to say a huge big thank you to all of our clients over the years - many we're proud to say have been us for a large percentage of the journey. And to anyone out there looking for a dedicated, reliable, knowledgeable web agency, do get in touch! We've never been asked to build something we couldn't deliver!
Want to share? Tweet it!
More from our blog
7.06.21
We're looking for an experienced PHP developer to join our highly effective team. We're problem solvers, with clients depending on us - some of them… Read →
6.04.21
We've been busy helping our client OilPrice.com with the launch of their new trading platform. Made in conjunction with FTSE 250 company owned Markets.com, OPCMarkets… Read →
23.03.21
We recently had 3 clients - within the space of a few days - ask us for video heros on their home page. We do… Read →