Today I've been doing the finishing touches to
GetStuckIn.org
- a website portal for vinvolved North Somerset, helping young people find volunteereing opportunities in the South West. The initiative is a national programme run by
vinvolved
, with regional organisers - in this case,
Changemakers
and
2qab Community Interest Company
. The portal also gives information on vcashpoint sponsored by HSBC - offering young people up to £2,500 to help turn their ideas for volunteering projects into reality. The site features a striking design over a customised version of our
versatile and user friendly SimpleCMS
and links to all the vinvolved social media pages. My favourite feature are the background images of North Somerset which change each time the page refreshes - see which you like best!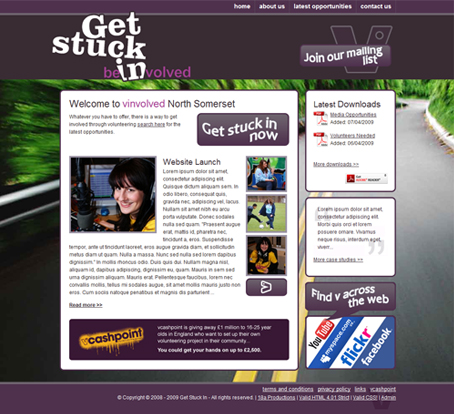 Want to share? Tweet it!
More from our blog
24.09.20
2020 has certainly been a very different sort of year. We've been thankful that for us - despite the team all working from home -… Read →
18.08.20
Over a decade ago we planted a small fruit orchard at Tom's parents house, planting a tree for every website we built in our first… Read →
14.08.20
We are very excited to be able to announce that 18a's CTO Tom Freeman has been shortlisted for the British Farming Awards' Agri-tech Innovator of… Read →